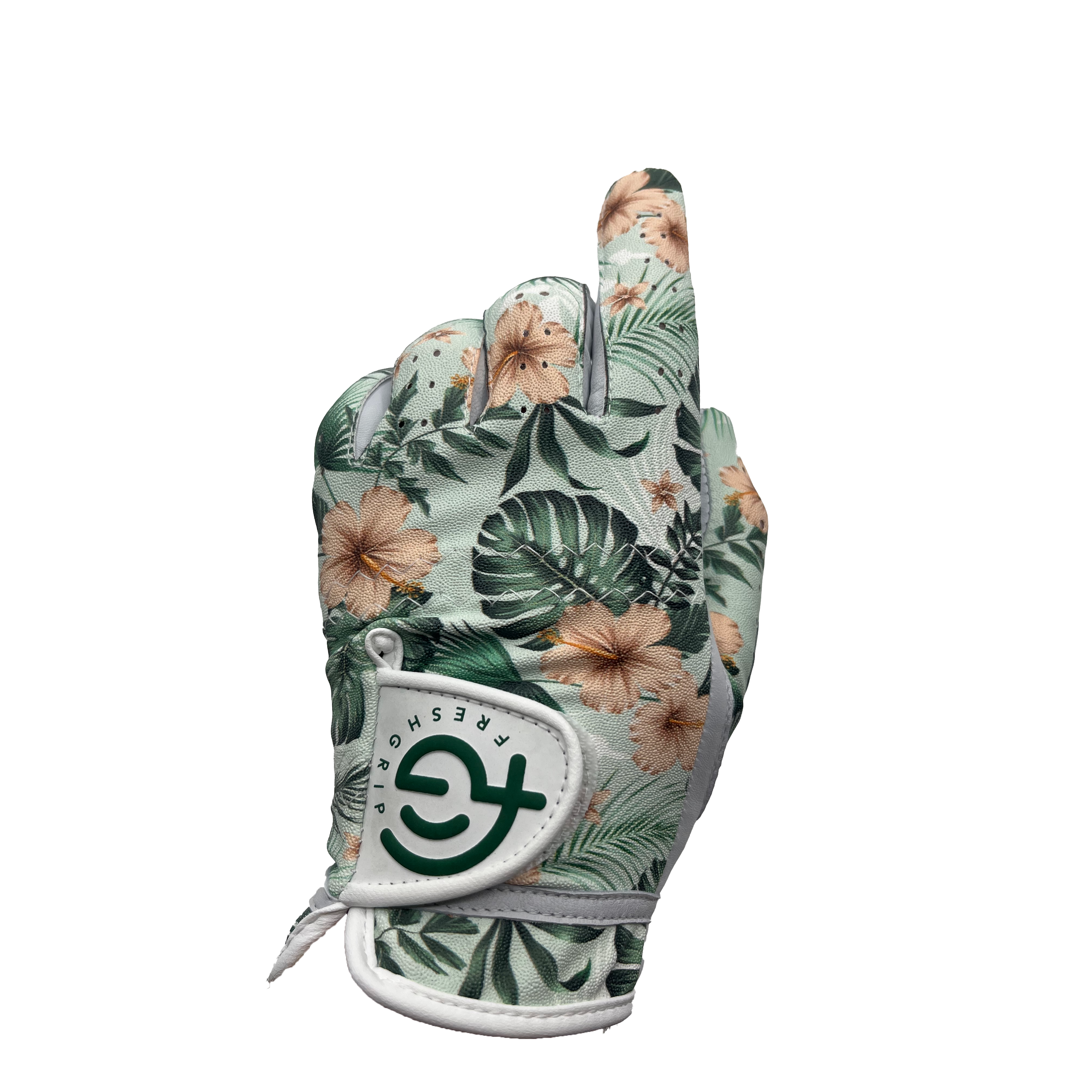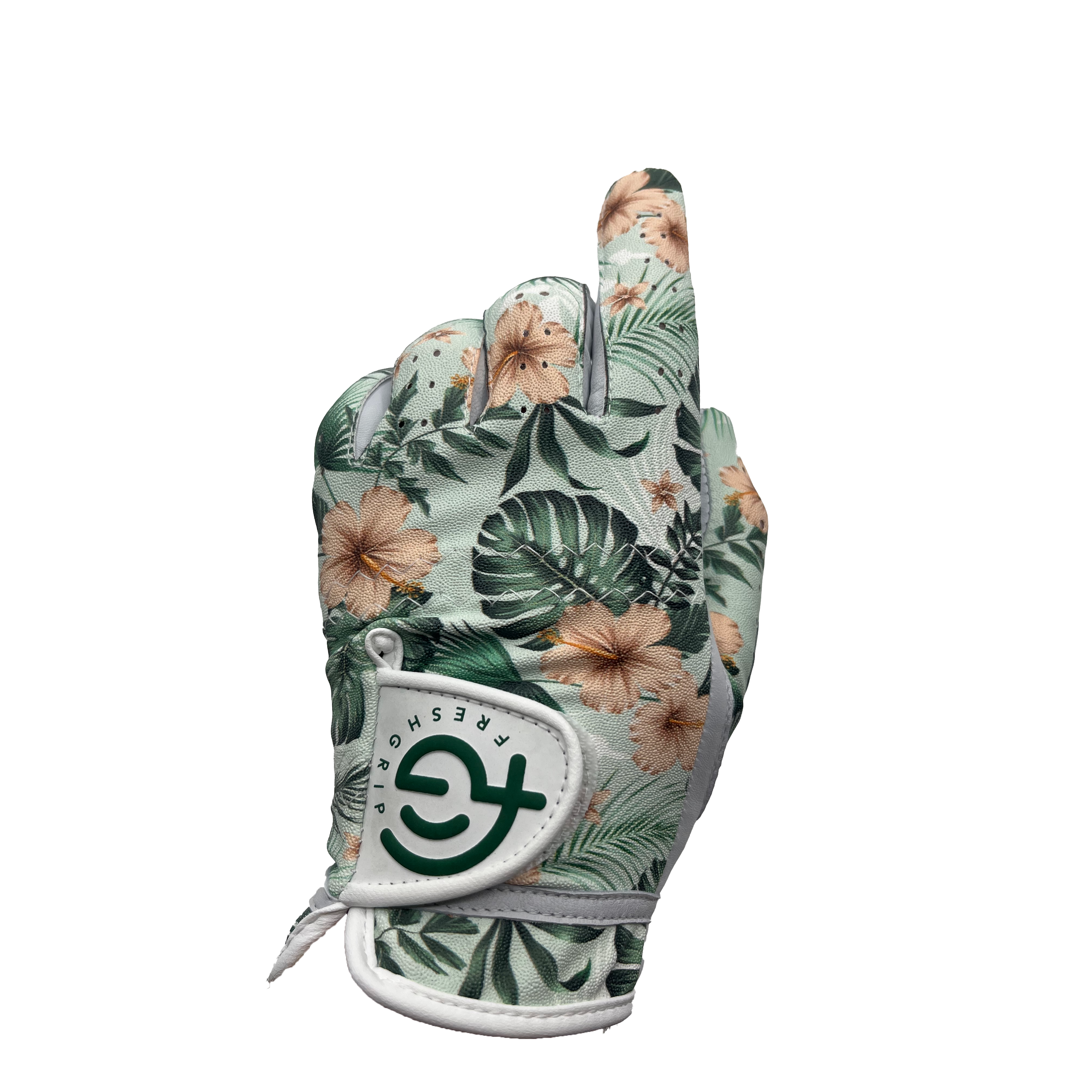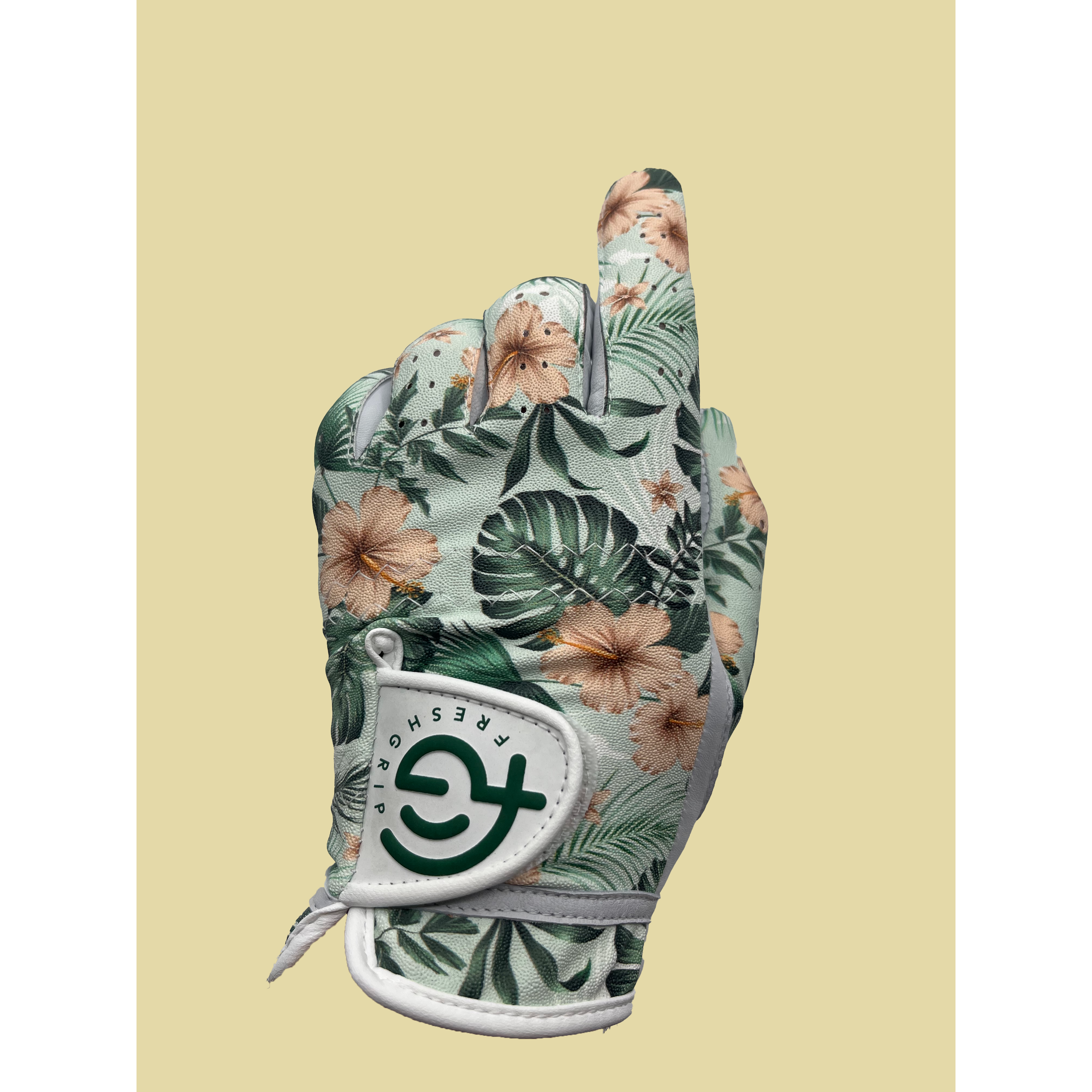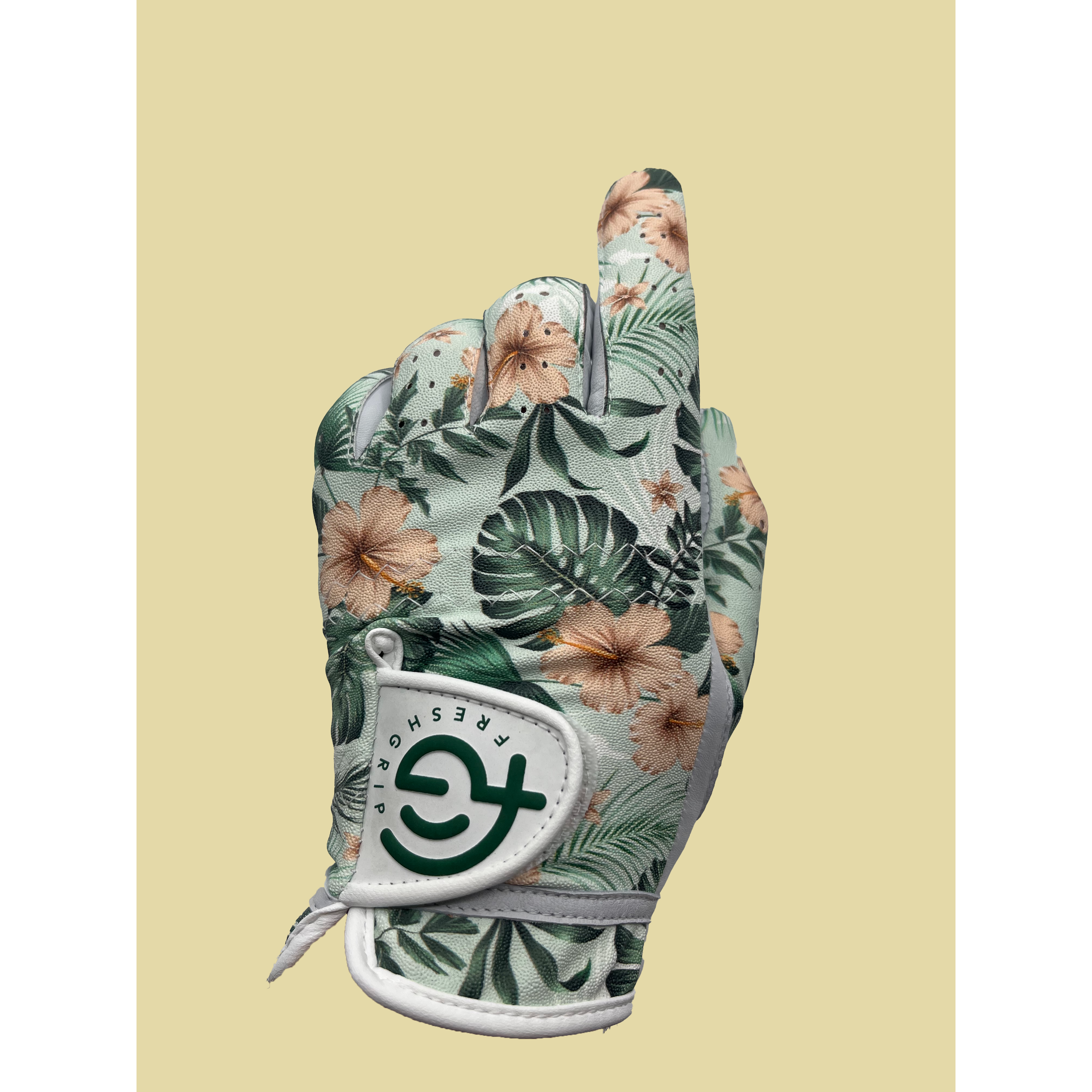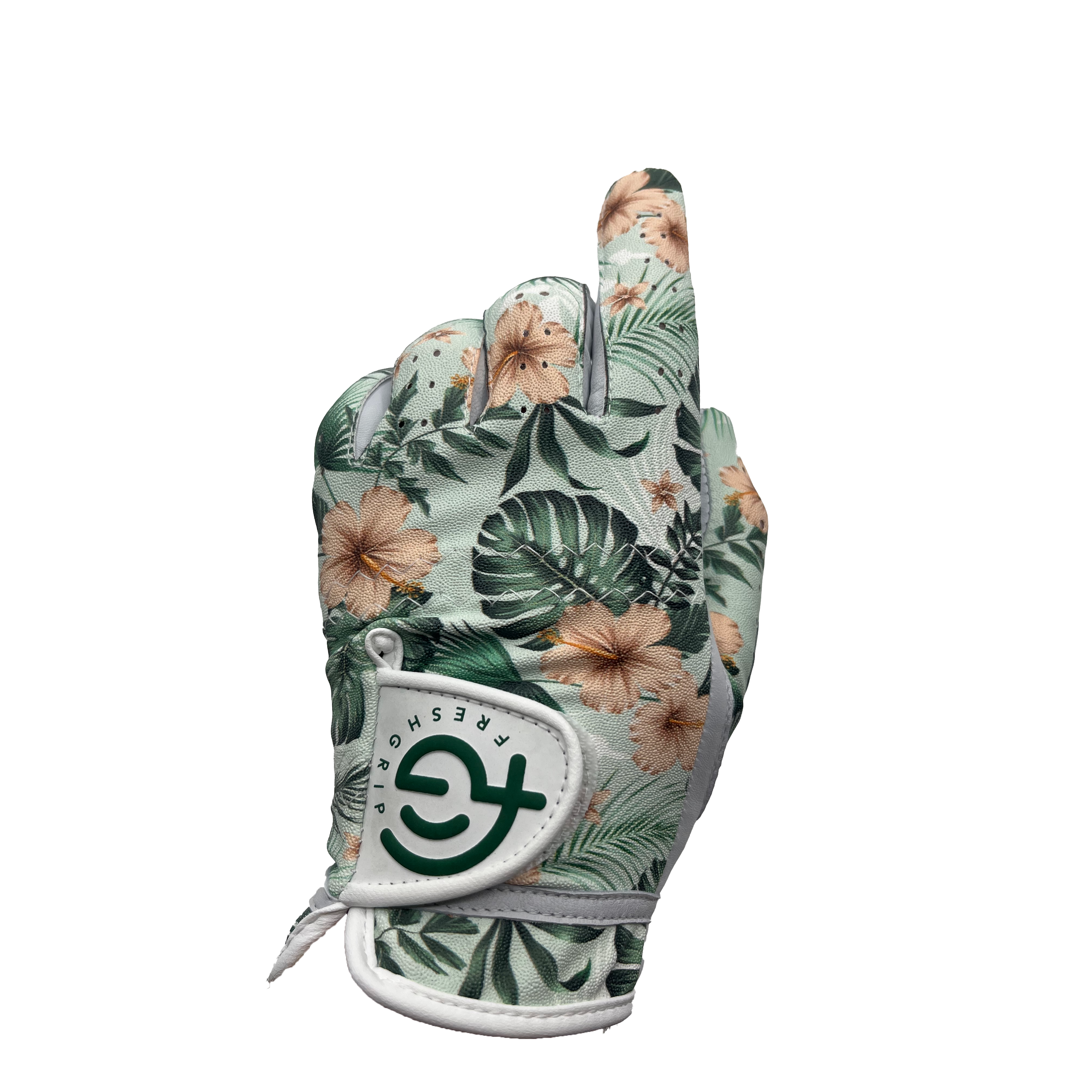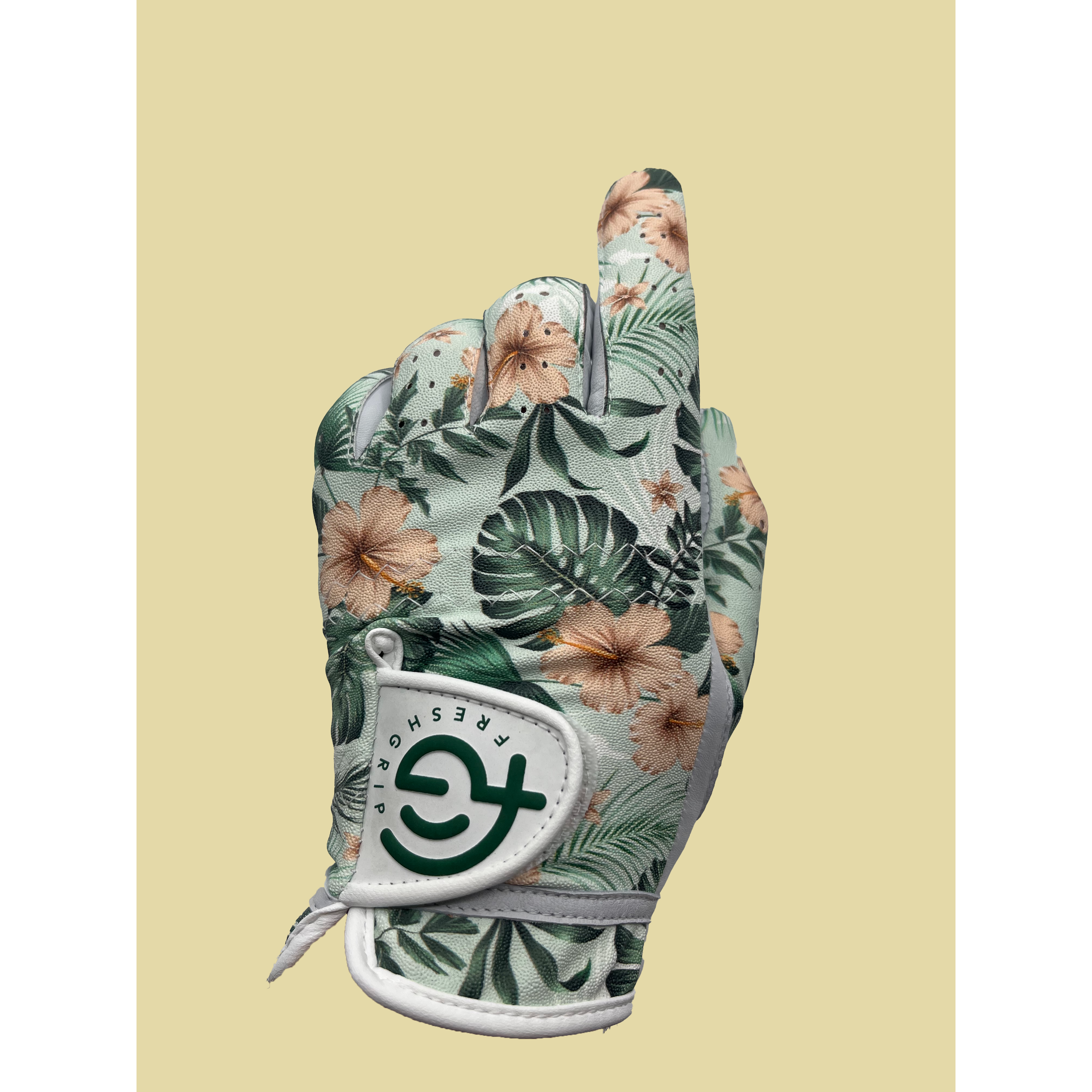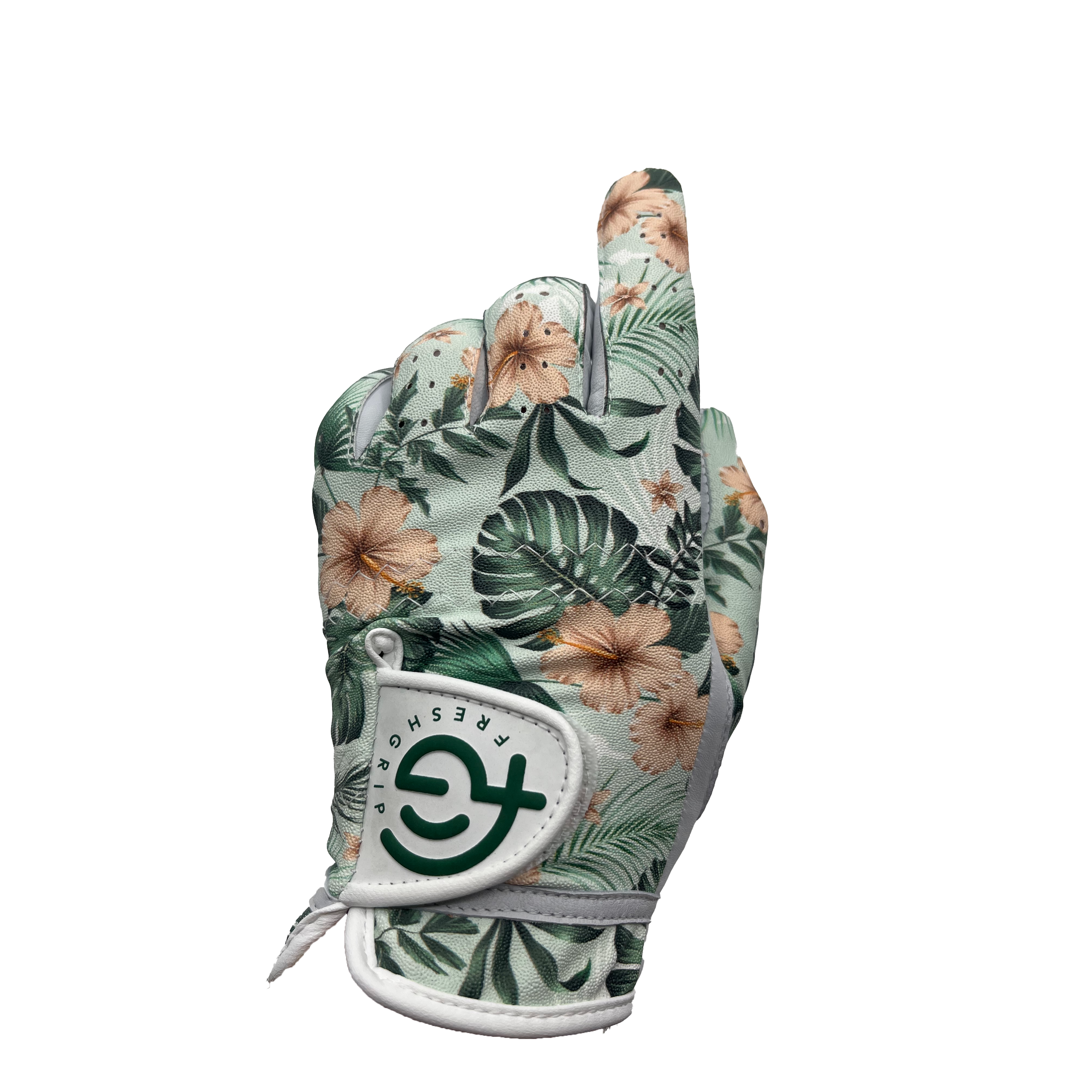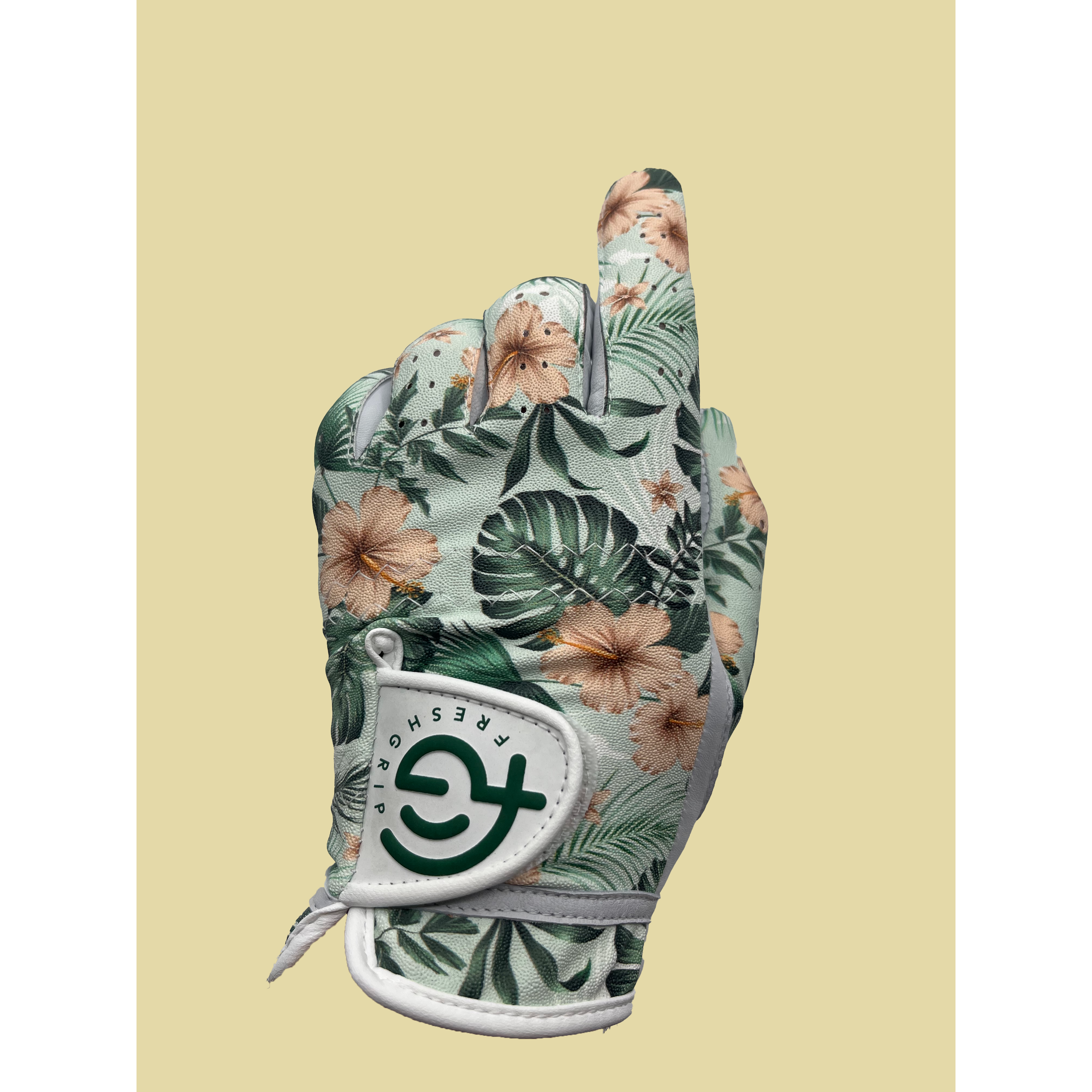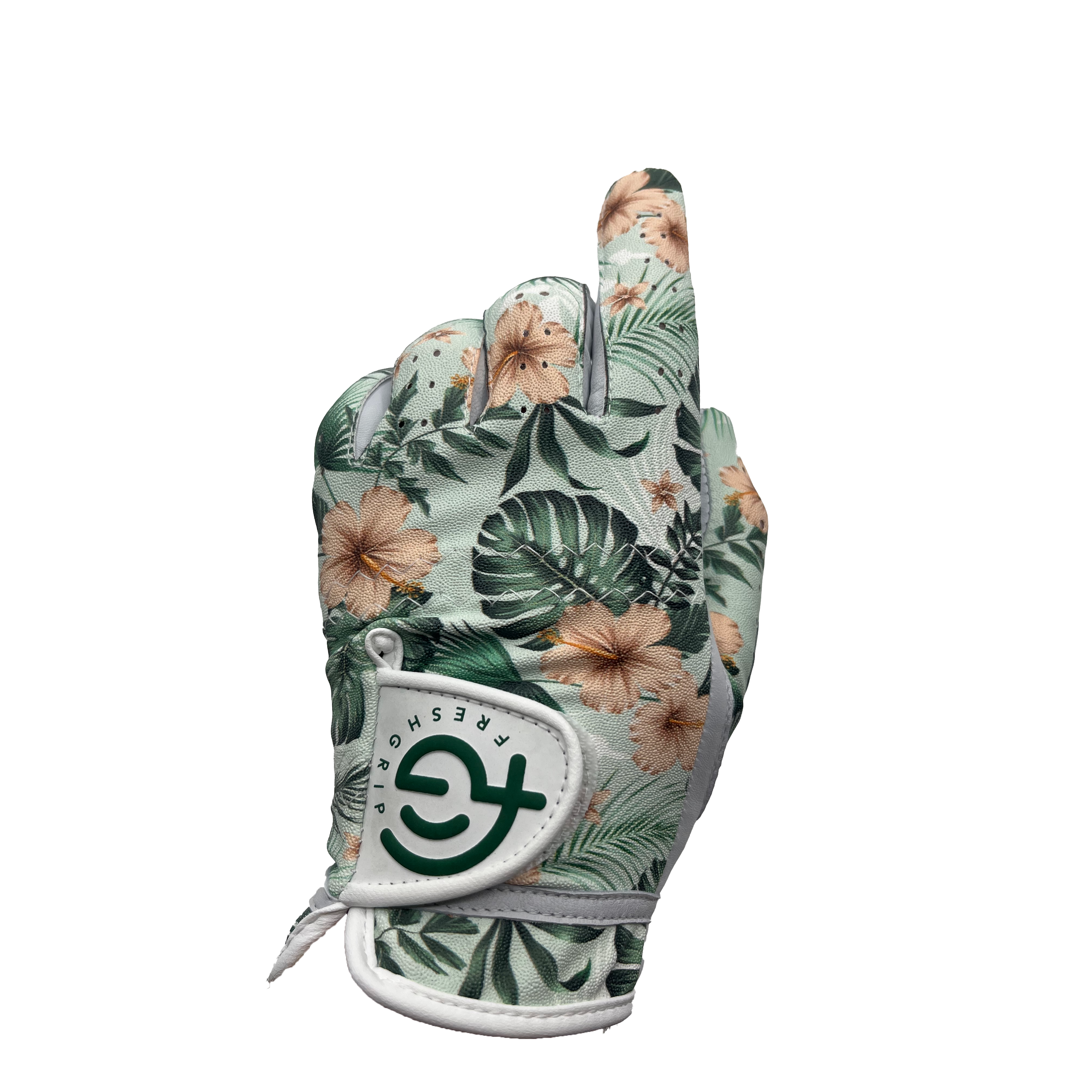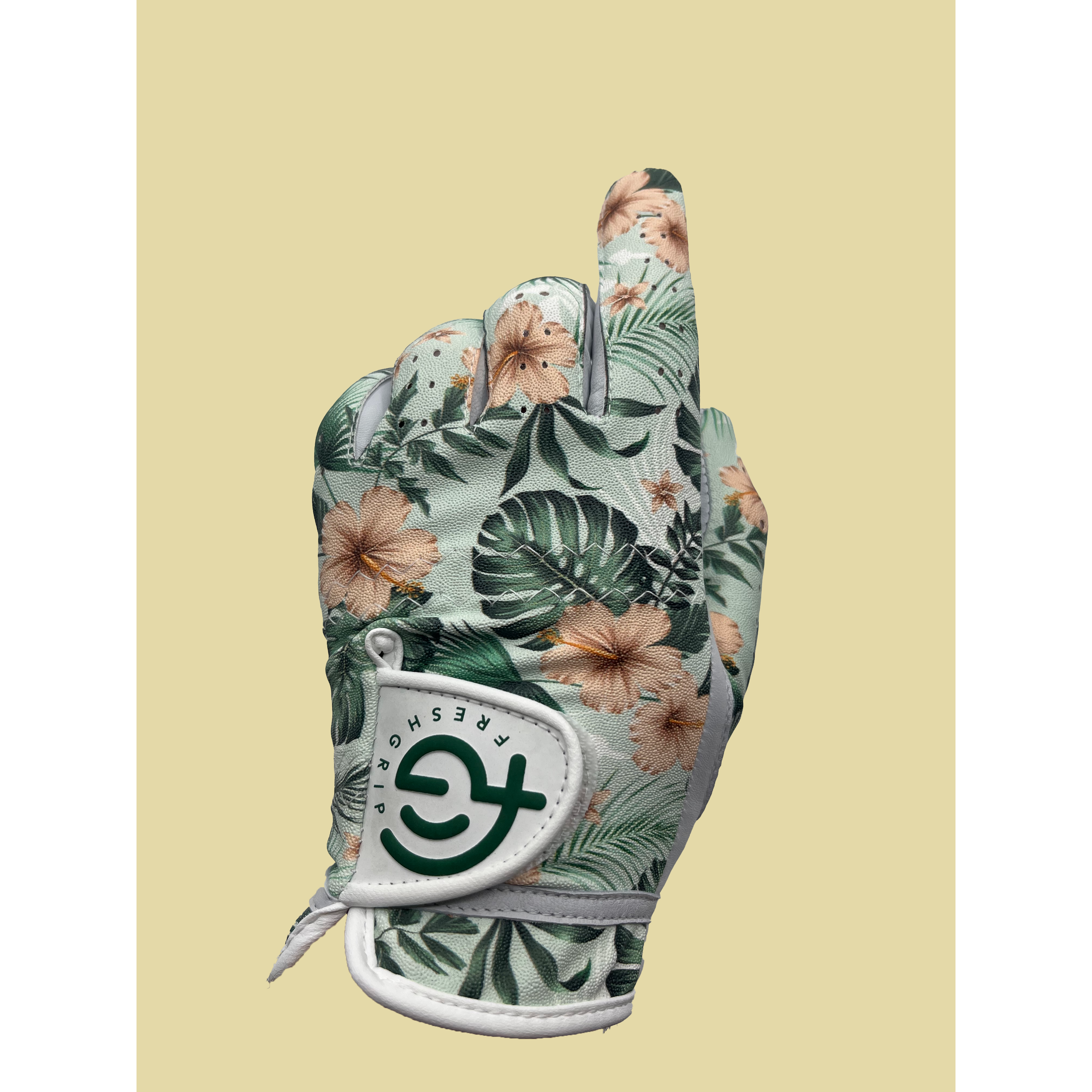 First Edition | Hawaiian Womens Golf Glove
Bundle and save up to 40%: 3 for £33 or 6 for £60, mix and match! Discount automatically applied.
At FreshGrip, our goal is to provide you unique looking gloves without sacrificing feel, and a design that stays vivid for longer.

Our Refreshingly Different glove collection combines a top-layer material for incredible design quality and supple AAA cabretta leather on the palm for that club gripping feel.

Our gloves combine:
Supple AAA cabretta for unrivalled feel
Truly unique design & vivid colour for longer lasting quality
Embossed & textured velcro tab for secure fastening
Elasticated wrist hem and knuckle for superior fit
Palm patch for added grip and protection
Our Motif Collection combines silky smooth AAA cabretta leather mixed with premium faux leather. This allows both a silky soft touch that can last through many a game of
golf.
The Motif Collection is an improvement across the board; sizing, comfort, durability and printing.
With a glove this good-looking, you don't want it getting lost in the post. Get your glove shipped to you tracked with either Royal Mail 24 or Royal Mail 48. Read our shipping terms here.

Need to return something? We offer free returns on all orders in case you want to trade or return. Read our returns policy here.
We gaurantee you will love your FreshGrip gloves, but if not, just let us know and you will get your money back. Read our refunds policy here.
"These gloves are a touch of class, something a bit different to the norm,
lovely feel and fit, made by a real professional!" - Happy customer Alistair
Men's Size Guide for Players Edition & Motif Collection 
| | | |
| --- | --- | --- |
| Size | Length (cm) | Circumference (cm) |
| S | 20 - 20.5 | 23 - 23.5  |
| M | 20.5 - 22 | 23.5 - 24.5 |
| M/L | 22 - 22.5 | 24.5 - 25 |
| L | 22.5 - 23 | 25 - 25.5 |
| XL | 23 - 23.5 | 25.5 - 26 |
Womens Size Guide for Players Edition and Motif Collection
| | | |
| --- | --- | --- |
| Size | Length (cm) | Circumference (cm) |
| S | 17 - 17.5 | 20 - 20.5 |
| M | 17.5 - 18 | 20.5 - 21 |
| L | 18 - 18.5 | 21 - 21.5 |
How to measure your hand
To understand what size glove you are, you will need to make two hand measurements. 
One, measure from the crease in your wrist, just below the palm of your hand, to the top of your middle finger. This will give you the measurement for the length of your hand. 
Two, measure circumference of your hand starting and finishing at the knuckles on the back of your hand. This will give you an idea on the width of your hand. 
We recommend using a textile measuring tape so you can easily wrap it around your hand to get an accurate measurement. 
What should the fit feel like? 
It's important that your glove fits without any excess material at the end of your fingers, or sagging on the back or palm of your hand. You want your glove to feel tight, but not restrictive. 
Further tips for buying the right gloves
Remember to measure the hand you will wear the glove on. If you are a right handed golfer, measure your left hand. Lefty's, your right hand
Premium leather like ours will give a little and mould to your hand over time, so factor this into your decision.
If you're in between sizes go for the smaller size.
Poor care will alter the condition of the glove and may change how it fits your hand over time. Always keep your glove flat in a separate holder when not in use, to maintain its supple condition for longer.  
Read more about looking after your glove here. 
I don't receive my gloves yet
Not yet received
Order from the 10 of july
Hi Alain, I'm sorry to hear you still haven't received your international shipment. We have spoken and we will contact you again when we have restocked.
First time used & sticking fallen out.
First time use & the stitching has come out. Looks good but there not durable or hard wearing, only last few minutes.
Hi Will, thanks for your feedback. We understand your frustration and have been working on new and improved gloves which are launching in the next 2-3 weeks. The material, sizing, printing and stitching are all vastly improved and we're really excited to release them. Please keep your eyes peeled.
Something different from the boring standard glove .Good quality
Excellent item and customer service